Together for the region
Behind the newPark is a regional, cross-city cooperation that is unparalleled anywhere in Germany. 23 municipalities and two districts are participating in the planning, financing and realisation of the industrial site in order to attract new industry to the region and create jobs. The shareholders of newPark Planungs- und Entwicklungsgesellschaft mbH are the cities of Datteln, Dortmund, Lünen and Olfen as well as the district of Recklinghausen, the North Westphalia Chamber of Industry and Commerce (IHK), NRW.URBAN GmbH, the regional economic development network WiN Emscher-Lippe GmbH (representing 39 shareholders, twelve of which are cities) and the Wirtschaftsförderungsgesellschaft für den Kreis Unna mbH (representing ten cities).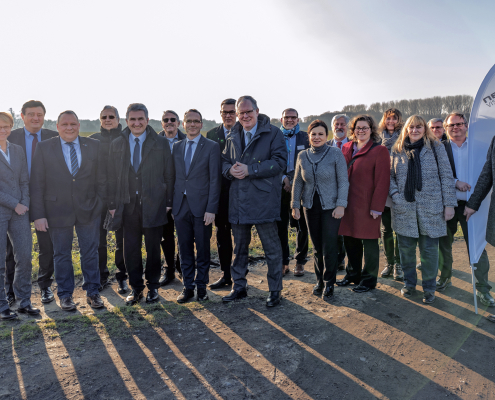 Politically, too, the newPark can count on broad support: the majority of 23 city councillors from the municipalities surrounding the site are behind the project. The CDU, SPD and FDP parties at the municipal level are basically in favour of the newPark. The vast majority of the Recklinghausen district council is in favour of the project. The district government of Münster gives the newPark high priority for a good economic development of the Emscher-Lippe region. Two state governments of different compositions (red-green, black-yellow) have included the project in the state development planning.
In spring 2020, the North Westphalia Chamber of Industry and Commerce (IHK) and the Münster Chamber of Skilled Crafts once again emphasised the urgency of developing the newPark following a land survey for Emscher-Lippe. Numerous other associations, from the DGB to the district craft associations, support the development of this industrial project of national importance.
This post is also available in: German